A rare case of trichobezoar: Rapunzel's syndrome
Nadir rastlanan bir trikobezoar olgusu: Rapunzel sendromu

Abstract views: 9 /

PDF downloads: 8
Keywords:
Bezoar, Rapunzel's syndrome, trichotillomania
Abstract
The clinical condition caused by bezoars with long tail named as "Rapunzel's syndrome". We present a case with the Rapunzel's syndrome, and also briefly review the relevant literature in this article. We diagnosed a gastric trichobezoar that filling the entire stomach and extending to the forth part of duodenum in a 21 years-old-girl who complained about abdominal pain and weight loss. The bezoar removed by coeliotomy and gastrotomy.
References
Lopes LR, Oliveira PSP, Pracucho EM, Camargo MA, de Souza Coelho Neto J, Andreollo NA. The rapunzel syndrome: an unusual trichobezoar presentation. Case Report Med 2010;2010:841028.
Williams RS. The fascinating history of bezoars. Med J Aust 1986;145(11-12):613-4.
Chojnacki KA. Foreign bodies and bezoars of the stomach and small intestine. In: Yeo CJ, Dempsey DT, Peters JH (editors). Shackelford's Surgery of the alimentary tract. 6. baskı, Philadelphia: Saunders Elsevier, 2007, 940-946.
Eryılmaz R, Şahin M, Alimoğlu O, Yıldız MK. Rapunzel sendromu: Olgu sunumu. Ulus Travma Derg 2004;10(4):260-3.
Bouwer C, Stein DJ. Trichobezoars in trichotillomania: case report and literature overview. Psychosom Med 1998;60(5):658- 60.
Christenson GA, Mansueto CS. Trichotillomania: Descriptive characteristics and phenomenology. In: Stein DJ, Christenson GA, Hollander E (editors). Trichotillomania: Current Concepts. Washington, DC, American Psychiatric Press, 1999, 1-41.
Bhatia MS, Singhal PK, Rastogi V, Dhar NK, Nigam VR, Taneja SB. Clinical profile of trichotillomania. J Indian Med Assoc 1991;89(5):137-9.
DeBakey ME, Jordan GL. Foreign bodies of the esophagus, stomach and duodenum. In: Schwartz SI, Ellis H (editors). Maingot's abdominal operations. 8. baskı, Connecticut: Appleton-Century-Crofts, 1985, 667-683.
Bernstein LH, Gutstein S, Efron G, et al. Trichobezoar—an unusual cause of megaloblastic anemia and hypoproteinemia in childhood. Am J Dig Dis 1973;18(2):67-71.
Shawis RN, Doig CM. Gastric trichobezoar associated with transient pancreatitis. Arch Dis Child 1984;59(10):994-5.
Schreiber H, Filston HC. Obstructive jaundice due to gastric trichobezoar. J Pediatr Surg 1976;11(1):103-4.
Wadlington WB, Rose M, Holcomb GW Jr. Complications of trichobezoars: A 30-year experience. South Med J 1992;85(10):1020-2.
Rees M. Intussusception caused by multiple trichobezoars: A surgical trap for the unwary. Br J Surg 1984;71(9):721 .
Mehta MH, Patel RV. Intussusception and intestinal perforations caused by multiple trichobezoars. J Pediatr Surg 1992;27(9):1234-5.
Phillips MR, Zaheer S, Drugas GT. Gastric trichobezoar: Case report and literature review. Mayo Clin Proc 1998;73(7):653-6.
Wang YG, Seitz U, Li ZL, Soehendra N, Qiao XA. Endoscopic management of huge bezoars. Endoscopy 1998;30(4):371-4.
Kuo JY, Mo LR, Tsai CC, Chou CY, Lin RC, Chang KK. Nonoperative treatment of gastric bezoars using electrohydraulic lithotripsy. Endoscopy 1999;331(5):386-8.
Walker-Renard P. Update on the medical management of phytobezoars. Am J Gastroenterol 1993;88(10):1663-6.
Zarling EJ, Moeller DD. Bezoar therapy. Complications using Adolph's meat tenderizer and alternatives from literature review. Arch Intern Med 1981;141(12):1669-70.
Nirasawa Y, Mori T, Ito Y, Tanaka H, Seki N, Atomi Y. Laparoscopic removal of a large gastric trichobezoar. J Pediatr Surg 1998;33(4):663-5.
Siriwardana HP, Ammori BJ. Laparoscopic removal of a large gastric bezoar in a mentally retarded patient with pica. Surg Endosc 2003;17(5):834.
Dalshaug GB, Wainer S, Hollaar GL. The Rapunzel syndrome (trichobezoar) causing atypical intussusception in a child: a case report. J Pediatr Surg 1999;34(3):479-80.
Singla SL, Rattan KN, Kaushik N, Pandit SK. Rapunzel syndrome - a case report. Am J Gastroenterol 1999;94(7):1970- 1.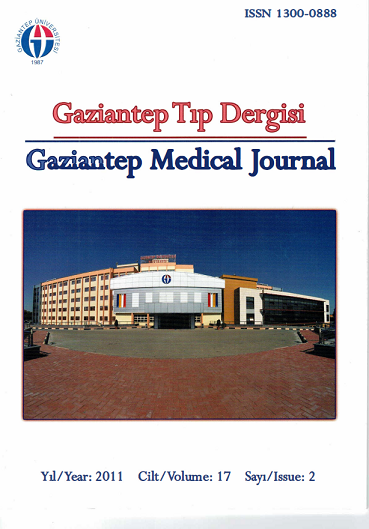 Downloads
How to Cite
Kırkıl, C., Böyük, A., Bülbüller, N., Aygen, E., & Karabulut, K. (2023). A rare case of trichobezoar: Rapunzel's syndrome: Nadir rastlanan bir trikobezoar olgusu: Rapunzel sendromu. European Journal of Therapeutics, 17(2), 108–110. https://doi.org/10.5455/GMJ-30-2011-31
License
Copyright (c) 2023 European Journal of Therapeutics
This work is licensed under a Creative Commons Attribution-NonCommercial 4.0 International License.
The content of this journal is licensed under a Creative Commons Attribution-NonCommercial 4.0 International License.