Endoscopic Retrograde Cholangiopancreatography in Patients with Post-Operative Bile Duct Injuries: Experience of a Tertiary Center in Turkey

Abstract views: 46 /

PDF downloads: 27
Keywords:
Post-operative bile leakage, ERCP, cholecystectomy, biliary tract injury, biliary fistula
Abstract
Objective: The aim of this study was to determine the effectiveness and safety of endoscopic retrograde cholangiopancreatography (ERCP) in the diagnosis and treatment of post-operative bile duct injuries and to share our experience of a tertiary referral center. Methods: Patients who underwent ERCP in our hospital due to biliary injuries after biliary surgery between January 2017 and March 2020 were included in this study. Demographic data, etiologies, clinical conditions, endoscopic treatment methods, and results of the patients were analyzed. Results: A total of 30 patients (16 females and 14 males) were included in this study. Twenty-six patients experienced bile leakage or stenosis after cholecystectomy, and four patients had hepatic hydatid cyst surgery. ERCP was successful in 25 patients (83.3%), but four (13.3%) patients underwent surgery and one patient (3.3%) underwent percutaneous transhepatic cholangiography after failed ERCP. Among the patients who had biliary stenting, biliary leakage was recovered in all of the patients, and repeat ERCP revealed that 18.2% of the patients had stones or mud in the common bile duct. The median time to ERCP was 6.5 days, and there was no difference between early (first 10 days) or late (10-30 days) ERCPs in terms of effectiveness and safety. Conclusion: ERCP is a safe and effective method that should be considered before percutaneous procedures and surgery, whether surgery to ERCP time is early or late. Biliary stenting effectively recovers biliary leakage, and stent removal by repeat ERCP should be performed to check the common bile duct for stones or mud, instead of solely stent removal.
References
Pesce A, Palmucci S, La Greca G, Puleo S. Iatrogenic bile duct injury: Impact and management challenges. Clin Exp Gastroenterol.
;12:121-128.
Rustagi T, Aslanian HR. Endoscopic management of biliary leaks after laparoscopic cholecystectomy. J Clin Gastroenterol.
;48(8):674-678.
Cohen JT, Charpentier KP, Beard RE. An update on iatrogenic biliary injuries: Identification, classification, and management. Surg
Clin North Am. 2019;99(2):283-299.
Pesce A, Portale TR, Minutolo V, Scilletta R, Li Destri G, Puleo S. Bile duct injury during laparoscopic cholecystectomy without intraoperative cholangiography: A retrospective study on 1,100 selected patients. Dig Surg. 2012;29(4):310-314.
Roslyn JJ, Binns GS, Hughes EF, Saunders-Kirkwood K, Zinner MJ, Cates JA. Open cholecystectomy. A contemporary analysis of
,474 patients. Ann Surg. 1993;218(2):129-137.
Bergman JJ, van den Brink GR, Rauws EA, et al. Treatment of bile duct lesions after laparoscopic cholecystectomy. Gut.
;38(1):141-147.
Strasberg SM, Hertl M, Soper NJ. An analysis of the problem of biliary injury during laparoscopic cholecystectomy. J Am Coll Surg.
;180(1):101-125.
Cotton PB, Lehman G, Vennes J, et al. Endoscopic sphincterotomy complications and their management: An attempt at consensus.
Gastrointest Endosc. 1991;37:383-393.
Donnellan F, Zeb F, Courtney G, Aftab AR. Successful outcome of sphincterotomy and 7 French pigtail stent insertion in the management of post-cholecystectomy bile leaks. Hepatobiliary Pancreat Dis Int. 2009;8:309-311.
Kaffes AJ, Hourigan L, De Luca N, Byth K, Williams SJ, Bourke MJ. Impact of endoscopic intervention in 100 patients with suspected
postcholecystectomy bile leak. Gastrointest Endosc. 2005;61:269-275.
Abdel-Raouf A, Hamdy E, El-Hanafy E, El-Ebidy G. Endoscopic management of postoperative bile duct injuries: A single center
experience. Saudi J Gastroenterol. 2010;16(1):19-24.
Tewani SK, Turner BG, Chuttani R, Pleskow DK, Sawhney MS. Location of bile leak predicts the success of ERCP performed for postoperative bile leaks. Gastrointest Endosc. 2013;77(4):601-608.
Sandha GS, Bourke MJ, Haber GB, Kortan PP. Endoscopic therapy for bile leak based on a new classification: Results in 207 patients.
Gastrointest Endosc. 2004;60:567-574.
Katsinelos P, Kountouras J, Paroutoglou G, et al. A comparative study of 10-Fr vs. 7-Fr straight plastic stents in the treatment of
postcholecystectomy bile leak. Surg Endosc. 2008;22:101-106.
Fasoulas K, Zavos C, Chatzimavroudis G, et al. Eleven-year experience on the endoscopic treatment of post-cholecystectomy bile
leaks. Ann Gastroenterol. 2011;24(3):200-205.
Chaput U, Vienne A, Audureau E, et al. Temporary placement of fully covered self-expandable metal stents for the treatment of
benign biliary strictures. United Eur Gastroenterol J. 2016;4(3):403-412.
Mangiavillano B, Luigiano C, Tarantino I, et al. Fully covered, selfexpandable metal stents for first-step endoscopic treatment of biliary leaks secondary to hepato-biliary surgery: A retrospective study. Dig Liver Dis. 2013;45(5):430-432.
Canena J, Liberato M, Meireles L, et al. A non-randomized study in consecutive patients with postcholecystectomy refractory biliary
leaks who were managed endoscopically with the use of multiple plastic stents or fully covered self-expandable metal stents (with
videos). Gastrointest Endosc. 2015;82(1):70-78.
Way LW, Stewart L, Gantert W, et al. Causes and prevention of laparoscopic bile duct injuries: Analysis of 252 cases from a human
factors and cognitive psychology perspective. Ann Surg. 2003;237:460-469.
Martinez-Lopez S, Upasani V, Pandanaboyana S, et al. Delayed referral to specialist centre increases morbidity in patients with
bile duct injury (BDI) after laparoscopic cholecystectomy (LC). Int J Surg. 2017;44:82-86.
Parlak E, Disibeyaz S, O¨ demis B, et al. Endoscopic treatment of patients with bile duct stricture after cholecystectomy: Factors predicting recurrence in the long term. Dig Dis Sci. 2015;60(6):1778-1786.
Jain V, Yeasted N, Pooran N. Necessity of a repeat cholangiogram during biliary stent removal after postcholecystectomy bile leak.
Can J Gastroenterol. 2012;26:701-704.
Cote GA, Ansstas M, Shah S, et al. Findings at endoscopic retrograde cholangiopancreatography after endoscopic treatment of postcholecystectomy bile leaks. Surg Endosc. 2010;24:1752-1756.
Coelho-Prabhu N, Baron TH. Assessment of need for repeat ERCP during biliary stent removal after clinical resolution of postcholecystectomy bile leak. Am J Gastroenterol. 2010;105:100-105.
Siiki A, Vaalavuo Y, Antila A, et al. Biodegradable biliary stents preferable to plastic stent therapy in post-cholecystectomy bile leak
and avoid second endoscopy. Scand J Gastroenterol. 2018;53(10-11):1376-1380.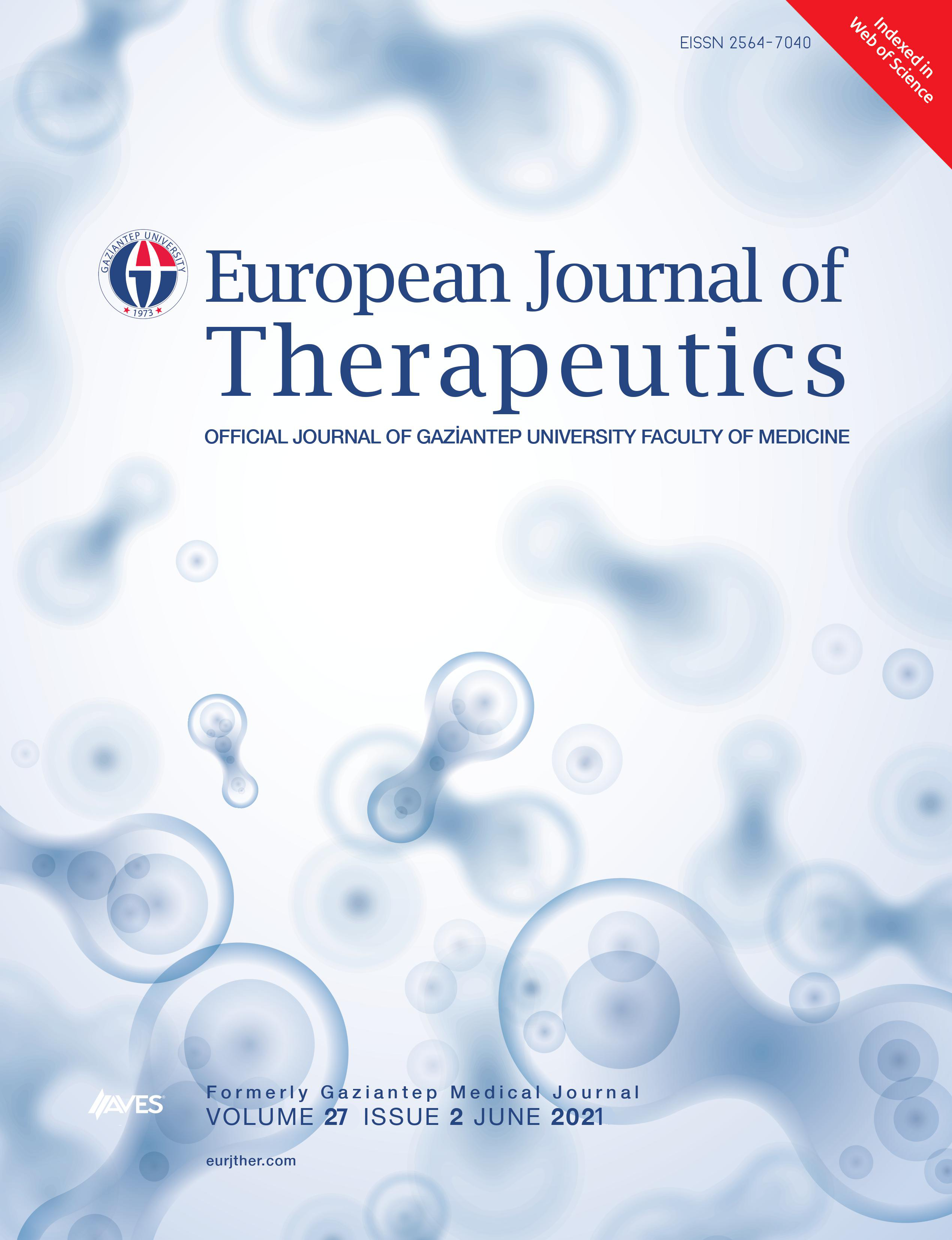 Downloads
How to Cite
Duzenli, T., Köseoğlu, H., Aktı, E. S., & Yılmaz, B. (2021). Endoscopic Retrograde Cholangiopancreatography in Patients with Post-Operative Bile Duct Injuries: Experience of a Tertiary Center in Turkey. European Journal of Therapeutics, 27(2), 142–148. https://doi.org/10.5152/eurjther.2021.20090
Section
Original Articles
License
This work is licensed under a Creative Commons Attribution-NonCommercial 4.0 International License.
The content of this journal is licensed under a Creative Commons Attribution-NonCommercial 4.0 International License.