Prevalence of Accessory Sacroiliac Joint and Its Clinical Significance

Abstract views: 26 /

PDF downloads: 33
Keywords:
Accessory sacroiliac joint, variation, BT, dry bone
Abstract
Objective: To determine the prevalence of the accessory sacroiliac joint (ASIJ) on both computed tomography (CT) images and dry bones and ultimately, to contribute to the literature.
Materials and Methods: CT images archived in the Radiology department of Gaziantep University Medical Faculty obtained from 145 individuals (104 males and 41 females) as well as 92 sacral bones were examined. 
Results:  The prevalence of ASIJ among 92 sacral bones was 15.2%. The ASIJ was more commonly (52%) located at the posterior portion of the SIJ at the level of the second dorsal sacral foramen. In 48% of the bones, ASIJ was identified just above the first dorsal sacral foramen. Unilateral ASIJ was observed in 10.8% and bilateral ASIJ in 4.4% of the sacral bones. On CT images, ASIJ was found in 7.8% of the males and 7.2% of the females. The total prevalence of sacroiliac joint variations was 28.9%, and 6.8% of them were ASIJs.
Conclusion: It should be kept in mind that ASIJ may be a source of arthritis and chronic hip pain. The presence of ASIJ should be sought through imaging studies for early diagnosis of ASIJ.
References
Ehara S, el-Khoury GY, Bergman RA. The accessory sacroiliac joint: a common anatomic variant. AJR Am J Roentgenol. 1988;150(4):857-9.
Friedman L, Silberberg PJ, Rainbow A, Butler R. A limited, low-dose computed tomography protocol to examine the sacroiliac joints. Can Assoc Radiol J. 1993;44(4):267-72.
Prassopoulos PK, Faflia CP, Voloudaki AE, Gourtsoyiannis NC. Sacroiliac joints: anatomical variants on CT. J Comput Assist Tomogr. 1999;23(2):323-7.
Trotter M. ACCESSORY SACROILIAC ARTICULATIONS IN EAST AFRICAN SKELETONS. Am J Phys Anthropol. 1964;22(2):137-41.
Hadley LA. Accessory sacroiliac articulations with arthritic changes. Radiology. 1950;55(3):403-9.
Hadley LA. Accessory sacro-iliac articulations. J Bone Joint Surg Am. 1952;34-a(1):149-55.
Fortin JD, Ballard KE. The frequency of accessory sacroiliac joints. Clin Anat. 2009;22(8):876-7.
Valojerdy MR, Hogg DA. Anatomical note: The occurrence of accessory sacroiliac joints in man. Clinical Anatomy. 1990;3(4):257-60.
Tok Umay S, Korkmaz M. Frequency of anatomical variation of the sacroiliac joint in asymptomatic young adults and its relationship with sacroiliac joint degeneration. Clin Anat. 2020;33(6):839-43.
Toussirot E, Aubry S, Runge M. Unilateral Accessory Sacroiliac Joint with Bone Marrow Edema Mimicking Sacroiliitis. J Rheumatol. 2018;45(9):1327-8.
Kim DK, McKenzie GA. Accessory Sacroiliac Joint Injection for Relief of Buttock Pain. Pain Med. 2019;20(2):412-3.
Song R, Lee S, Lee SH. Progressive sacroiliitis due to accessory sacroiliac joint mimicking ankylosing spondylitis: A case report. Medicine (Baltimore). 2019;98(16):e15324.
Kang JH, Kim MW, Moon EH, Kim YJ, Yu KP. The Accessory Sacroiliac Joint Diagnosed With Bone SPECT/CT. Clin Nucl Med. 2017;42(6):483-4.
Bakland O, Hansen JH. The "axial sacroiliac joint". Anat Clin. 1984;6(1):29-36.
Derry DE. Note on Accessory Articular Facets between the Sacrum and Ilium, and their Significance. J Anat Physiol. 1911;45(Pt 3):202-10.
Rosa Neto NS, Vitule LF, Gonçalves CR, Goldenstein-Schainberg C. An accessory sacroiliac joint. Scand J Rheumatol. 2009;38(6):496.
Vleeming A, Van Wingerden JP, Dijkstra PF, Stoeckart R, Snijders CJ, Stijnen T. Mobility in the sacroiliac joints in the elderly: a kinematic and radiological study. Clin Biomech (Bristol, Avon). 1992;7(3):170-6.
Mahato NK. Sacroiliac Joints. Bergman's Comprehensive Encyclopedia of Human Anatomic Variation2016. p. 165-75.
Trotter M. Accessory sacro-iliac articulations. American Journal of Physical Anthropology. 1937;22(2):247-61.
Klang E, Lidar M, Lidar Z, Aharoni D, Eshed I. Prevalence and awareness of sacroiliac joint alterations on lumbar spine CT in low back pain patients younger than 40 years. Acta Radiol. 2017;58(4):449-55.
Rixey A, Murthy N, Amrami K, Frick M, McKenzie G. The pediatric accessory sacroiliac joint: does it exist? Skeletal Radiol. 2021;50(3):579-83.
Slobodin G, Lidar M, Eshed I. Clinical and imaging mimickers of axial spondyloarthritis. Semin Arthritis Rheum. 2017;47(3):361-8.
Demir M, Mavi A, Gümüsburun E, Bayram M, Gürsoy S, Nishio H. Anatomical variations with joint space measurements on CT. Kobe J Med Sci. 2007;53(5):209-17.
Teran-Garza R, Verdines-Perez AM, Tamez-Garza C, Pinales-Razo R, Vilchez-Cavazos JF, Gutierrez-de la OJ, et al. Anatomical variations of the sacro-iliac joint: a computed tomography study. Surg Radiol Anat. 2021;43(6):819-25.
Ziegeler K, Kreutzinger V, Diekhoff T, Roehle R, Poddubnyy D, Pumberger M, et al. Impact of age, sex, and joint form on degenerative lesions of the sacroiliac joints on CT in the normal population. Sci Rep. 2021;11(1):5903.
El Rafei M, Badr S, Lefebvre G, Machuron F, Capon B, Flipo RM, et al. Sacroiliac joints: anatomical variations on MR images. Eur Radiol. 2018;28(12):5328-37.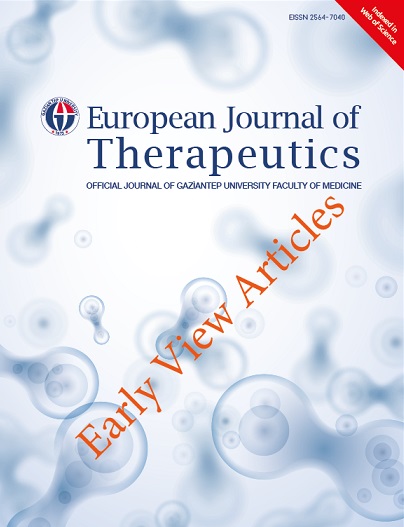 Downloads
How to Cite
(1)
Cihan, Ömer F.; Taşdemir, R.; Karabulut, M. Prevalence of Accessory Sacroiliac Joint and Its Clinical Significance. Eur J Ther 2023.
Section
Original Articles
License
Copyright (c) 2023 European Journal of Therapeutics
This work is licensed under a Creative Commons Attribution-NonCommercial 4.0 International License.
The content of this journal is licensed under a Creative Commons Attribution-NonCommercial 4.0 International License.