An Investigation of the Effectiveness of the 577- nm Pro-yellow Laser in Patients with Vascular Disorders

Abstract views: 210 /

PDF downloads: 177
Keywords:
Pro-yellow laser, vascular disorders, laser treatment, vascular laser
Abstract
Objective: Vascular disorders severely impair the psycho-social status of individuals. Various laser and light systems, which have advantages and disadvantages, including the pro-yellow laser are used for the therapy of these disorders.
Aim: The goal of the present study was to investigate the effectiveness and feasibility of the 577 nm pro-yellow laser for a broad range of indications including erythematelangiectatic rosacea, facial erythema, post-acne erythema, facial telangiectasis, hemangioma, genital angiokeratoma, and port wine stain nevus.
Methods: A total of 98 patients (25 male, 73 female) older than 15 years who were treated with the pro-yellow laser for vascular disorders at the cosmetology unit between 2017 and 2019 were retrospectively included in the study.
Results: The mean rate of recovery was 100% in genital angiokeratoma, 94.4% in spider angioma, 83.3% in facial telangiectasis, 74.8% in erythematotelangiectatic rosacea, 72% in facial erythema + facial telangiectasis, and 68.3% in facial erythema. Over 60% of improvement was observed in most patients with vascular disorders. There was no significant link between the Fitzpatrick skin type and treatment success. Treatment success was significantly low in cases with nasal involvement.
Conclusion: The current study concluded that pro-yellow laser is an efficient and safe laser modality that may yield satisfactory outcomes regardless of the different skin types.
References
Alinia H, Cardwell LA, Tuchayi SM, Nadkarni A, Bahrami N, Richardson IM, et al. Screening for depression in rosacea patients. Cutis 2018;102:36-38.
Goldman L, Blaney DJ, Kindel Jr, Franke EK. Effect of the laser beam on the skin. Preliminary report. J Invest Dermatol 1963;40:121-2.
Tanzi EL, Lupton JR, Alster TS. Lasers in dermatology: four decades of progress. J Am Acad Dermatol 2003;49:1-31.
Temiz SA, Ataseven A, Dursun R, Özer İ. Successful treatment of poikiloderma of Civatte with a 577‐nm pro‐yellow laser. Journal of Cosmetic Dermatology, 2020;19(10):2769-2770.
Kapicioglu Y, Sarac G, Cenk H. Treatment of erythematotelangiectatic rosacea, facial erythema, and facial telangiectasia with a 577-nm pro-yellow laser: a case series. Lasers Med Sci 2019;34:93-98.
Mohamed EM, Mohamed Tawfik K, Hassan Ahmad W. Successful treatment of facial vascular skin diseases with a 577-nm pro-yellow laser. J CosmetDermatol2019;18(6):1675-1679.
Strand M, Bergqvist G, Griffith S, Bergqvist E. The effect of recurrent pulsed dye laser treatments in rosacea patients. J Cosmet Laser Ther 2017;19:160-164.
Kwon SH, Choi JW, Byun SY, Kim BR, Park KC, Youn SW, et al. Effect of early long-pulse pulsed dye laser treatment in infantile hemangiomas. Dermatol Surg 2014;40(4):405-11.
Nam CH, Kim MH, Hong SP, Park BC. Fractional 532-nm KTP diode laser and 595-nm pulsed dye laser in treatment of facialtelangiectatic erythema. J Cosmet Dermatol 2019;18(3):783-787.
Garden BC, Garden JM, Goldberg DJ. Light-based devices in the treatment of cutaneous vascular lesions: An updated review. J Cosmet Dermatol 2017;16(3):296-302.
McCoy SE. Copper bromide laser treatment of facial telangiectasia: results of patients treated over five years. Lasers Surg Med 1997;21(4):329-40.
Uebelhoer NS, Bogle MA, Stewart B, Arndt KA, Dover JS. A split-face comparison study of pulsed 532-nm KTP laser and 595-nm pulsed dye laser in the treatment of facial telangiectasias and diffuse telangiectatic facial erythema. Dermatol Surg 2007;33:441-8.
Tanghetti, EA. Split‐face randomized treatment of facial telangiectasia comparing pulsed dye laser and an intense pulsed light hand piece. Lasers Surg Med 2012;44:97‐102.
Tierney E, Hanke CW. Randomized controlled trial: Comparative efficacy for the treatment of facial telangiectasias with 532 nm versus 940 nm diode laser. Lasers Surg Med 2009;41:555-62.
Sarac G, Kapicioglu Y, Cenk H. An evaluation of the efficacy of a single‐session 577 nm pro‐yellow laser treatment in patients with postacne erythema and scarring. Dermatol Ther 2021;34(1):e14611.
Moustafa F, Lewallen RS, Feldman SR. The psychological impact of rosacea and the influence of current management options. J Am Acad Dermatol 2014;71:973-80.
Tsunoda K, Akasaka K, Akasaka T, Amano H. Successful treatment of erythematotelangiectatic rosacea with intense pulsed light: Report of 13 cases. J Dermatol 2018;45:1113-1116.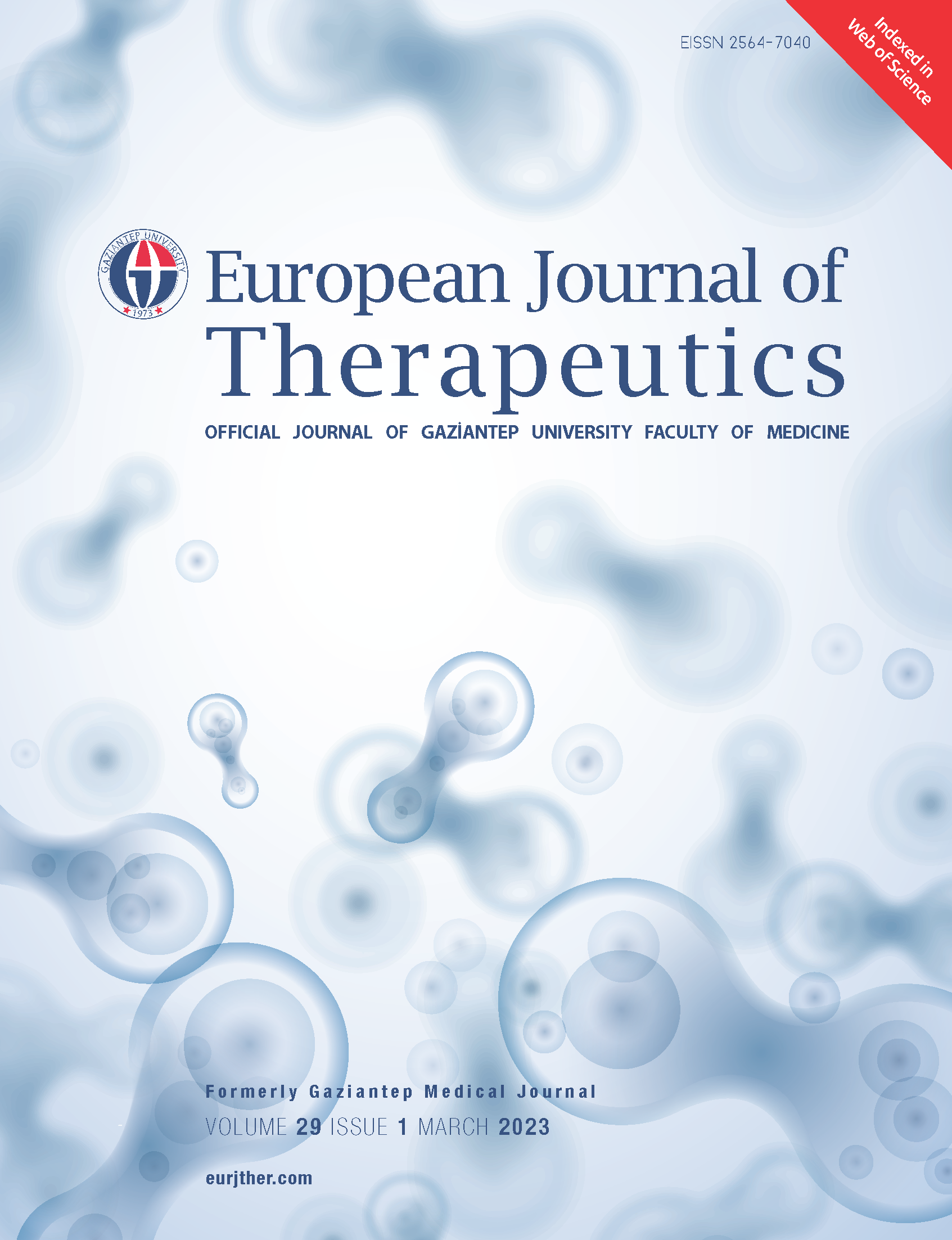 Downloads
How to Cite
Ataseven, A., Temiz, S. A., & Özer, İlkay. (2023). An Investigation of the Effectiveness of the 577- nm Pro-yellow Laser in Patients with Vascular Disorders. European Journal of Therapeutics, 29(1), 49–54. https://doi.org/10.58600/eurjther-346
Section
Original Articles
License
Copyright (c) 2023 European Journal of Therapeutics
This work is licensed under a Creative Commons Attribution-NonCommercial 4.0 International License.
The content of this journal is licensed under a Creative Commons Attribution-NonCommercial 4.0 International License.