Coronary Embolism from Prosthetic Aortic Valve due to Incompliant Warfarin Use: A Rare Cause of Acute Coronary Syndrome

Abstract views: 38 /

PDF downloads: 20
Keywords:
Coronary artery embolism, incompliant warfarin use, prosthetic aortic valve
Abstract
Acute ST-segment elevation myocardial infarction (STEMI) is a life-threatening condition for which revascularization should be accessed emergently. Most STEMI cases result from atherosclerotic plaque rupture. However, rare causes such as coronary artery dissection, the vasculitic involvement of the coronary arteries, and coronary artery embolism may result in pathophysiological mechanism. This paper presents the case of a young male patient with subacute anterior STEMI secondary to thrombus embolism from prosthetic aortic valve due to incompliant warfarin use.
References
Koutsampasopoulos K, Datsios A, Grigoriadis S, Vogiatzis I. Atrial fibrillation causing ST elevation myocardial infarction due to coronary embolism: case report and review of the literature. Hippokratia 2016; 20: 160-2.
Staico R, Armaganijan L, Lopes RD. Coronary embolism and calcified aortic valve: is there a correlation?. J Thromb Thrombolysis 2012; 34: 425-7.
Prizel KR, Hutchins GM, Bulkley BH. Coronary artery embolism and myocardial infarction. Ann Intern Med 1978; 88: 155-61.
Nishimura RA, Otto CM, Bonow RO, Carabello BA, Erwin JP 3rd, Fleisher LA, et al. 2017 AHA/ACC Focused Update of the 2014 AHA/ACC Guideline for the Management of Patients With Valvular Heart Disease: A Report of the American College of Cardiology/American Heart Association Task Force on Clinical Practice Guidelines. J Am Coll Cardiol 2017; 70: 252-89.
Pavsic N, Dolenc-Strazar Z, Cerne Cercek A, Klokocovnik T, Prokselj K. Coronary artery embolism from a blood cyst of the mitral valve. Heart Lung Circ 2017; 26: e118-20
Gavrielatos G, Buttner HJ, Lehane C, Neumann FJ. Complex interventional procedures for the management of early postoperative left main coronaryartery embolism after bioprosthetic aortic valve insertion. Cardiovasc Revasc Med 2011; 12: 68.e1-4.
Tricard J, Piccardo A, Le Guyader A, Darodes N, Bosle S, Laskar M. coronary artery embolism following aorticvalve replacement. J Card Surg 2015; 30: 581-2.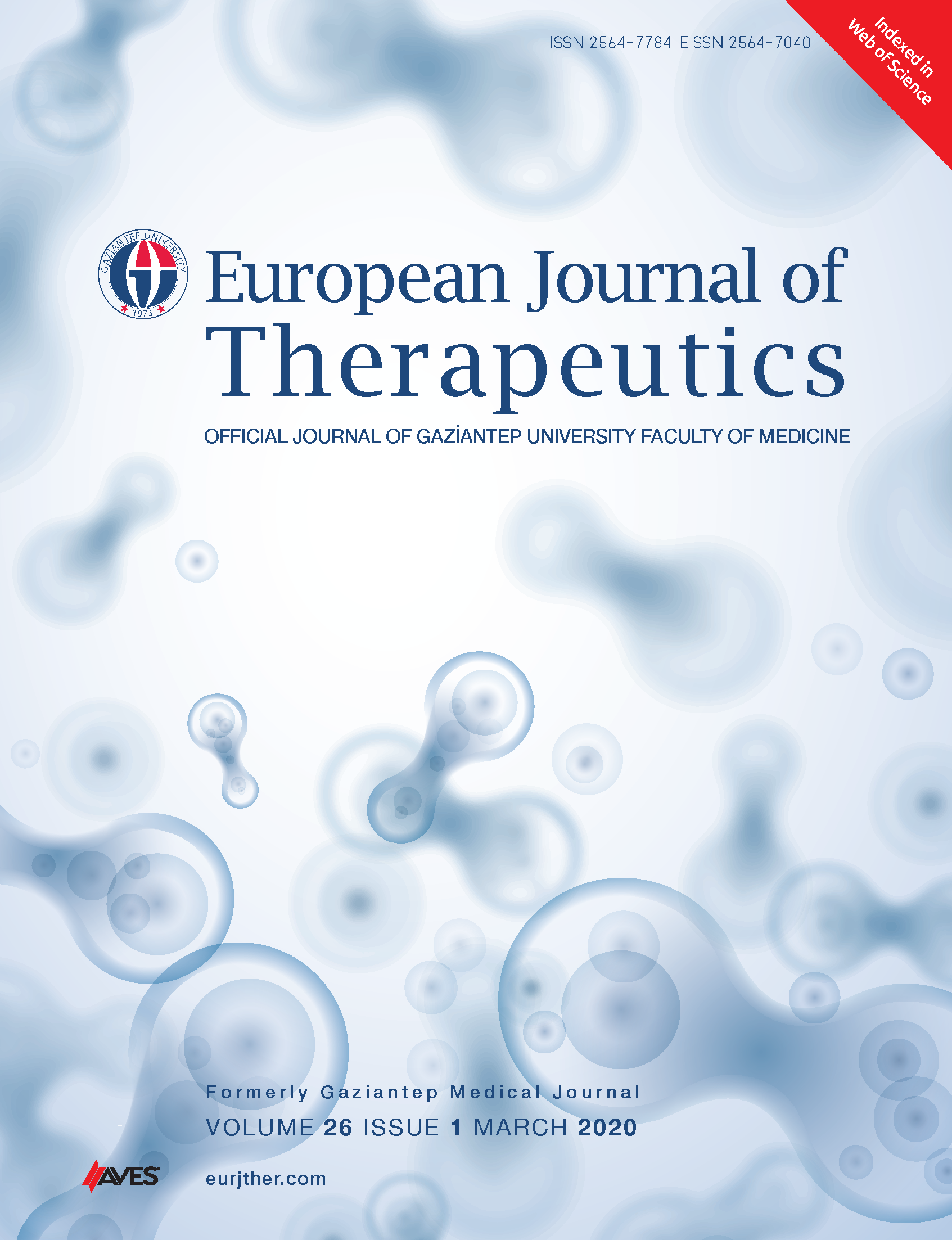 Downloads
How to Cite
Canpolat, U., Şener, Y. Z., Okşul, M., Şahiner, M. L., & Aytemir, K. (2023). Coronary Embolism from Prosthetic Aortic Valve due to Incompliant Warfarin Use: A Rare Cause of Acute Coronary Syndrome. European Journal of Therapeutics, 26(1), 81–83. https://doi.org/10.5152/eurjther.2019.18032
License
Copyright (c) 2023 European Journal of Therapeutics
This work is licensed under a Creative Commons Attribution-NonCommercial 4.0 International License.
The content of this journal is licensed under a Creative Commons Attribution-NonCommercial 4.0 International License.