Welcome to the New Issue (Vol: 29, No: 3, 2023) and Current News of the European Journal of Therapeutics

Abstract views: 126 /

PDF downloads: 66
Abstract
Dear Colleagues,
We are delighted to share another issue (September 2023, Volume 29, Issue 3) of the European Journal of Therapeutics (Eur J Ther). We believe this issue's valuable and exciting works will be read with interest. As you will notice at first glance, you will see that this issue contains many editorials and letters to the editor, unlike the previous issues. As the new editorial team, we aim to publish current developments, interesting notes, or important historical anecdotes in medicine as Editorials, Special Editorials, or Letters to the Editor. We would like to inform you that you can submit all of your articles that meet these criteria to our journal. In this editorial, we would like to share the developments that we think are important for Eur J Ther, since our previous editorial [1].
First, we would like to share that the Eur J Ther is approved for inclusion in ERIH PLUS [2]. Moreover, the Eur J Ther now also appears in the Journal Section of the ResearchGate [3]. In this way, it will be possible to follow the Eur J Ther through ResearchGate. We wish to inform you that our editorial team is diligently striving to deliver enhanced advancements in the forthcoming editions. Another significant development is that an application to the Index Copernicus was submitted for the Eur J Ther on July 31, 2023 [4].
In the previous issue, it was reported that some of the cited references made to the previous articles published in the Eur J Ther were not reflected in the Web of Science, and applications via "data changes form" were made to correct them [1]. Most of these applications have been completed, updated in the Web of Science database, and corrected missing references. With these corrections and new citations in the last three to four months, the average per-item value (total number of citations for all articles divided by the number of articles) of the Eur J Ther has increased from 0.52 to 0.78 [5]. In addition, the journal's H-Index has risen from 8 to 10. The current metrics of Eur J Ther in the Web of Science are as follows, as of August 16, 2023 [5].
Total number of publications: 800 (between 2007 to 2023)
Citing Articles (total): 593
Citing Articles (without self-citations): 558
Times Cited (total): 620
Times Cited (without self-citations): 570
Average per item: 0.78 (620/800)
H-Index: 10
Although these metrics may be insufficient for Eur J Ther, which has been published for over thirty years, we, the New Editorial Team, anticipate that we can achieve better levels in the long run with our updated policies.
Another significant development is that the Journal Impact Factor value of the Eur J Ther was calculated for the first time, and this value was 0.3. As is known, the Web of Science calculated Journal Impact Factors for the first time for journals in the E-SCI index as of 2023 [6]. Although a Journal Impact Factor of 0.3 is not satisfactory, it is not bad for a journal whose Journal Impact Factor is calculated for the first time. On the other hand, we believe that this value will increase in the coming years, as essential and valuable studies will be published in our journal.
The previous issue reported that there are significant changes in the Editorial Board of Eur J Ther [1, 7]. We are pleased to inform you that we continue to expand our editorial team in this issue. Information about our esteemed editors, who have recently joined our team, is below.
Ricardo Grillo, DDS, MBA, MSc, is a new Editorial Board Member of the Eur J Ther for Oral and Maxillofacial Surgery. Dr Grillo is the Head of the Department of Oral and Maxillofacial Surgery at IPESP (Brasília). He has more than 20 years of experience in Orthognathic Surgery, Oral Surgery and Maxillofacial Aesthetics. He is also a court expert in the topic. His special interest is related to new technologies including algorithms, virtual surgical planning, CAD and biotechnology.
Figen Govsa (Gokmen), MD, finished her higher education at the Faculty of Medicine at Dokuz Eylul University in Izmir between 1982 and 1988. In 1989, she worked as a general practitioner at the Cal Health Center in Denizli Province. From 1990 to 1992, she served as an assistant at the Department of Anatomy at Ege University's Faculty of Medicine. She worked as an associate professor at the Department of Anatomy between 1996 and 2001, and since 2001, she has been a professor.
She has served in various faculty and upper management positions in Ege University's institutional structure, continuing her education-focused administrative roles in several councils and committees at the Faculty of Medicine. She has contributed to undergraduate and postgraduate education across Ege University's faculties, mentoring master's, doctoral, and specialist students, helping them become academics in the field of anatomy. Her research interests include clinical anatomy (surgical anatomy, head and neck surgery, vascular surgery, reconstructive surgery), radio-anatomy, anatomy teaching, and personalized treatment algorithms. She is the founder of the Digital Imaging and Three-Dimensional Modeling Laboratory- Ege 3D Lab (www.ege3dlab.com), where personalized surgical plans have increased surgical success in complex cases involving orthopedics, general surgery, neurosurgery, eye surgery, radiation oncology, and thoracic surgery.
With 150 SCI-expanded indexed academic journal articles, she has served as editor and chapter author for several scientific books published by national and international publishers. She has been an executor and researcher on numerous national projects in collaboration with national and international scientists. She is the Education and Terminology theme editor of the Surgical Radiological Anatomy journal and serves as an editor and reviewer for many foreign journals. She was the only anatomist from Turkey to be included in Stanford University's list of the World's Most Influential Scientists. Her joint publication with Prof. Dr. Yelda Pınar, titled "Anatomy of the superficial temporal artery and its branches: its importance for surgery", was ranked among the top 50 most-cited articles in the face rejuvenation theme by Mayo Clinic's Department of Plastic Surgery since 1950. It's the only study from Turkey in the "Landmarks in Facial Rejuvenation Surgery: The Top 50 Most Cited Articles. Aesthet Surg J, 2020."
From 2010 to 2012, Govsa contributed as a member of the TÜBA Turkish Medical Terminology Dictionary Working Group and was invited to rejoin the TÜBA working group starting in 2021. Since its establishment, she has been a member of the Turkish Anatomy and Clinical Anatomy Association, serving on its Qualification Board and Ethical Committee. She is also a member of the European Clinical Anatomy Association (EACA).
Özgür Kasapçopur, MD, is a Professor in Pediatrics at Istanbul University-Cerrahpasa, Cerrahpasa Medical Faculty, Department of Pediatrics, and is currently Head of Pediatric Rheumatology. He serves as the Chairman of the Institutional Review Board and Clinical Research Ethical Committee of Cerrahpasa Medical Faculty. Professor Kasapçopur received his undergraduate education in Medicine at Istanbul University, Cerrahpasa Medical Faculty and also completed here both his residency and fellowship in the Department of Pediatrics.
Professor Kasapçopur is a member of the Pediatric Rheumatology European Society (PReS), the Pediatric Rheumatology International Trials Organization (PRINTO), the Turkish Pediatric Association and the Turkish National Society of Pediatric Rheumatology. Professor Kasapçopur's research interests include vaccine response, cytokine pathway, and medical ethics, with clinical emphases on juvenile idiopathic arthritis, familial Mediterranean fever, autoinflammatory disease and juvenile systemic lupus erythematosus, dermatomyositis and scleroderma.
Professor Kasapçopur has published 83 book chapters in Turkish medical textbooks, and more than 315 original peer-reviewed articles (and case reports) in medical journals. The h-index of Professor Kasapçopur is 55 in Google Scholar and 43 in Web of Science. He had more than 8800 citations in the Web of Science.
Professor Kasapcopur is Editor-in-Chief of Turkish Archives Pediatrics. Additionally, Professor Kasapcopur is the Associate Editor of Archives of Rheumatology, Frontiers in Pediatrics, and Case Report in Pediatrics. He is also on the editorial board of many scientific national and international journals.
Harry Pantazopoulos, PhD is a faculty member in the Department of Psychiatry and Human Behavior at the University of Mississippi Medical Center. Dr Pantazopoulos received his A.L.M. degree from Harvard University and his doctoral degree in Neurobiology from Northeastern University in Boston. He trained as a postdoctoral fellow and a Junior Faculty at Mclean Hospital, Harvard Medical School before joining the University of Mississippi. The research of the Pantazopoulos lab is focused on identifying the neuropathological correlates of psychiatric disorders with an emphasis on the role of the extracellular matrix and circadian rhythms. He pursues these questions using a combination of human postmortem and animal model approaches. His long-term research goal is to develop a foundation of changes in neurocircuitry in several diseases, including Autism Spectrum Disorders, Schizophrenia, Bipolar Disorder, Major Depression and Substance Use Disorders, that he can leverage to develop more effective treatments. In addition, he aims to identify basic biological mechanisms that will provide insight into how the circadian system and the extracellular matrix regulate neural functions in a brain region-specific manner, linked to specific behaviors.
Ghada Shahrour, PhD, PMHCNS, RN is a faculty member at the Faculty of Nursing in Jordan University of Science and Technology. She is an associate professor in the field of psychiatric nursing and currently is the Chairman of the Community and Mental Health Nursing Department. Dr Shahrour received her PhD in 2017 and Master's degrees in 2011 from Kent State University in the USA and her BSN from Jordan University of Science and Technology. Her research interest is in the area of mental health nursing and more specifically researching bullying among adolescent school children and college students. Although Dr Shahrour has been appointed in 2018 to work at Jordan University of Science and Technology, she has 30 publications so far in the field of mental health. Dr Shahrour is a co-founder and a previous vice president of the Psychological Sciences Association in Jordan. She has worked on national and international projects as a co-investigator. Dr Shahrour aspires to improve the lives of adolescents and college students through her research on bullying and mental health in general.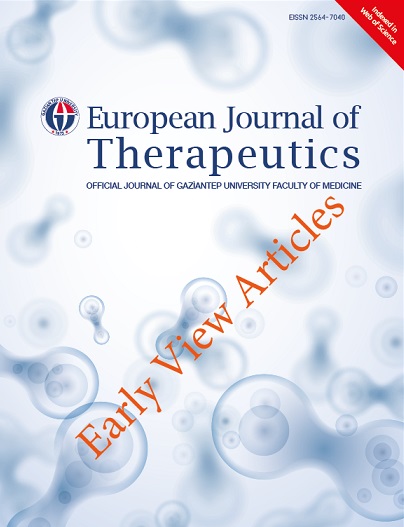 Downloads
How to Cite
Balat, A., Eren, Şevki H., Menzilcioğlu, M. S., Bahşi, İlhan, Doğan, İlkay, Acıduman, A., Çiğ, B., Georgiev, T., Grillo, R., Govsa, F., Kaplan, D. S., Karadağ, M., Karaoğlan, M., Kasapçopur, Özgür, Naqvi, W. M., Nasimi, A., Nedzvetsky, V., Olszewski, R., Ostrowski, J., Özçelik, A. A., Pantazopoulos, H., Piagkou, M., Resić, H., Rodrigues, A. R. A., Santoro, D., Shahrour, G., Taydaş, O., Tsoucalas, G., Yıldız, H., Yılmaz Furtun, B., Zdilla, M. J., & Schmidt, J. (2023). Welcome to the New Issue (Vol: 29, No: 3, 2023) and Current News of the European Journal of Therapeutics. European Journal of Therapeutics, e20-e24. https://doi.org/10.58600/eurjther1795
License
Copyright (c) 2023 European Journal of Therapeutics
This work is licensed under a Creative Commons Attribution-NonCommercial 4.0 International License.
The content of this journal is licensed under a Creative Commons Attribution-NonCommercial 4.0 International License.