Preoperative Assessment for Coronary Artery Bypass Graft: Going Back to the Basics

Abstract views: 58 /

PDF downloads: 36
Keywords:
Cardiac surgery, Color doppler ultrasonography, Clinical examination, Arm pressure gradient, Subclavian artery stenosis
Abstract
As doctors increasingly rely on technological advancements, ever-improving laboratory techniques, and imaging modalities, the importance of a thorough physical evaluation and bedside manner has been noticeably diminished. When it comes to patients scheduled for coronary artery bypass graft (CABG), the preoperative bilateral arm blood pressure (BP) measurement is often omitted; thus, sinister signs of atherosclerotic disease like the brachial gradient are neglected and the surgical plan is jeopardized. We present the case of a 72-year-old male listed for CABG, stressing the necessity of meticulous clinical examination and the routine use of color Doppler ultrasonography (CDUS), prior to surgery. This case aims to highlight the major role of thorough preoperative clinical assessment. The bilateral BP measurement and CDUS are two reliable, expeditious, noninvasive preoperative screening methods, which can detect patients with generalized atherosclerosis, altering, if necessary, the surgical plan, and aiming for the best possible outcome, without complications.
References
Feddock CA (2007) The lost art of clinical skills. Am J Med. 120(4):374-378. https://doi.org/10.1016/j.amjmed.2007.01.023
Erdevir M, Uyaroglu OA, Ozdede M, Tanriover MD (2021) "COVID-19: The final nail in the coffin for physical examination" Evaluation of the effects of COVID-19 pandemic on physical examination habits of residents in a university hospital: A cross-sectional survey. Int J Clin Pract. 75(12):e14988. https://doi.org/10.1111/ijcp.14988
Baribeau Y, Westbrook BM, Charlesworth DC, Hearne MJ, Bradley WA, Maloney CT (2002) Brachial gradient in cardiac surgical patients. Circulation. 106(12 Suppl 1):I11-I13.
Gao J, Zhao Z, Zhu J, Tian H, Liu Y (2021) The Role of Color Doppler Ultrasonography in the Perioperative Period of Coronary Artery Bypass Grafting: Comparison with Transit-Time Flow Measurement. Cardiology. 146(5):583-590. https://doi.org/10.1159/000512430
Rogers JH, Calhoun RF, 2nd (2007) Diagnosis and management of subclavian artery stenosis prior to coronary artery bypass grafting in the current era. J Card Surg. 22(1):20-25. https://doi.org/10.1111/j.1540-8191.2007.00332.x
Patel P, Shammas NW, Kapalis MJ, Dippel EJ, Lemke J, Harb C (2005) Routine visualization of the left internal mammary artery before bypass surgery: is it necessary? J Invasive Cardiol. 17(9):479-481.
Taggart DP, Benedetto U, Gerry S, Altman DG, Gray AM, Lees B, et al. (2019) Bilateral versus Single Internal-Thoracic-Artery Grafts at 10 Years. N Engl J Med. 380(5):437-446. https://doi.org/10.1056/NEJMoa1808783
Abdul Jabbar A, Houston J, Burket M, Il'Giovine ZJ, Srivastava BK, Agarwal A (2017) Screening for subclinical subclavian artery stenosis before coronary artery bypass grafting: Should we do it? Echocardiography. 34(6):928-933. https://doi.org/10.1111/echo.13528
Verghese A, Charlton B, Kassirer JP, Ramsey M, Ioannidis JP (2015) Inadequacies of Physical Examination as a Cause of Medical Errors and Adverse Events: A Collection of Vignettes. Am J Med. 128(12):1322-1324 e3. https://doi.org/10.1016/j.amjmed.2015.06.004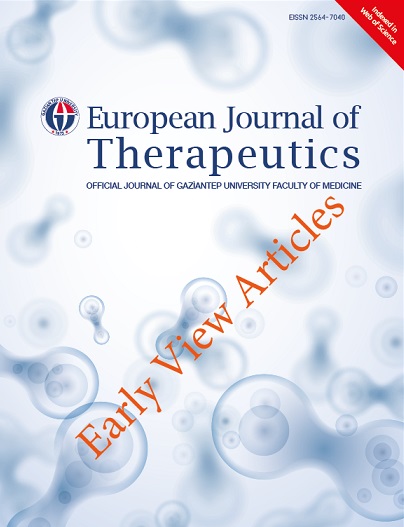 Downloads
How to Cite
Dimos Karangelis, Christodoulou, K. C., Efstratios Georgakarakos, Aliki Fiska, & Dimitrios Mikroulis. (2023). Preoperative Assessment for Coronary Artery Bypass Graft: Going Back to the Basics . European Journal of Therapeutics. https://doi.org/10.58600/eurjther1704
License
Copyright (c) 2023 European Journal of Therapeutics
This work is licensed under a Creative Commons Attribution-NonCommercial 4.0 International License.
The content of this journal is licensed under a Creative Commons Attribution-NonCommercial 4.0 International License.