Don't Get Caught in the Wrong Journal Trap: Insights for Young Researchers

Abstract views: 50 /

PDF downloads: 39
Keywords:
Publication, Research, indexed journals, predatory journals, guidelines
Abstract
This paper focuses on the importance of publishing research in indexed journals and the challenges encountered because of predatory publishers. This emphasizes the significance of qualitative health research and the use of evidence-based research approaches. The process of selecting indexed journals for publication is discussed, highlighting the benefits of credibility and recognition. The prevalence and detrimental consequences of predatory journals have been addressed, emphasizing the need for awareness and caution. The situation of scientific publication around the world is examined, noting the high presence of predatory journals and their impact on researchers' reputation and academic progress. Recommendations are provided to identify and avoid predatory journals as well as the need for increased education and accountability in the research community.
References
Balch CM, McMasters KM, Klimberg VS, Pawlik TM, Posner MC, Roh M, Tanabe KK, Whippen D, Ikoma N (2018) Steps to Getting Your Manuscript Published in a High-Quality Medical Journal. Ann Surg Oncol. 25(4):850-855. https://doi.org/10.1245/s10434-017-6320-6.
Bianchini C, Cosentino C, Paci M, Baccini M (2020) Open Access Phys Ther J. Do Predatory Journals Publish Lower-Quality Randomized Controlled Trials? Arch Phys Med Rehabil. 101(6):969-977. https://doi.org/10.1016/j.apmr.2019.12.012.
Cousijn H, Kenall A, Ganley E, Harrison M, Kernohan D, Lemberger T, Murphy F, Polischuk P, Taylor S, Martone M, Clark T (2018) A data citation roadmap for scientific publishers. Sci Data. 5. https://doi.org/10.1038/sdata.2018.259.
Eldridge SM, Chan CL, Campbell MJ, Bond CM, Hopewell S, Thabane L, Lancaster GA (2016) CONSORT 2010 statement: Extension to randomised pilot and feasibility trials. BMJ. 355. https://doi.org/10.1136/bmj.i5239.
Elmore SA, Weston EH (2020) Predatory Journals: What They Are and How to Avoid Them. Toxicol Pathol. 48(4):607-610. https://doi.org/10.1177/0192623320920209.
Ferris LE, Winker MA (2017) Ethical issues in publishing in predatory journals. Biochem Med (Zagreb). 27(2):279-284. https://doi.org/10.11613/BM.2017.030.
Grudniewicz A, Moher D, Cobey KD, Bryson GL, Cukier S, Allen K, Ardern C, Balcom L, Barros T, Berger M, Ciro JB, Cugusi L, Donaldson MR, Egger M, Graham ID, Hodgkinson M, Khan KM, Mabizela M, Manca A, Lalu MM (2019) Predatory journals: No definition, no defence. Nature. 576(7786):Article 7786. https://doi.org/10.1038/d41586-019-03759-y.
Kreiman J (2016) On Peer Review. J Speech Lang Hear Res. 59(3):480-483. https://doi.org/10.1044/2016_JSLHR-S-16-0043.
Lemberger T (2018) Data citation: What, when, why? Mol Syst Biol. 14(12). https://doi.org/10.15252/msb.20188783.
Luciani M, Jack SM, Campbell K, Orr E, Durepos P, Li L, Strachan P, Di Mauro S (2019) An Introduction to Qualitative Health Research. Prof Inferm. 72(1):60-68.
Masten Y, Ashcraft A (2017) Due diligence in the open-access explosion era: Choosing a reputable journal for publication. FEMS Microbiol Lett. 364(21). https://doi.org/10.1093/femsle/fnx206
Naqvi WM, Goyal CV, Sahu A (2020) The Art and the Science of Manuscript Publication: Tips and Tricks for Health Science Students and Professionals. Indian J Forensic Med Toxicol. 14(4):4331-4339. https://doi.org/10.37506/ijfmt.v14i4.12320.
Nicholas D (2019) How to choose a journal and write a cover letter. Saudi J Anaesth. 13(Suppl 1):S35-S41. https://doi.org/10.4103/sja.SJA_691_18.
Patwardhan B (2017) Indian Science and Predatory Journals. J Ayurveda Integr Med. 8(1):1-2. https://doi.org/10.1016/j.jaim.2017.02.004.
Robinson KA, Brunnhuber K, Ciliska D, Juhl CB, Christensen R, Lund H (2021) Evidence-Based Research Series-Paper 1: What Evidence-Based Research is and why is it important? J Clin Epidemiol. 129:151-157. https://doi.org/10.1016/j.jclinepi.2020.07.020.
Samuel (n.d.-a) An Indian physiotherapist's suggestions to keep out of fake journals. Physiother J Indian Assoc Physiother. Retrieved May 16, 2021, from https://www.pjiap.org/article.asp?issn=0973-6549;year=2018;volume=12;issue=1;spage=43;epage=45;aulast=Samuel.
Samuel (n.d.-b) The need for Indian physiotherapy research publications: Understanding journalology and predatory journals. AMHS. Retrieved May 15, 2021, from https://www.amhsjournal.org/article.asp?issn=2321-4848;year=2018;volume=6;issue=1;spage=189;epage=191;aulast=Samuel.
Samuel AJ, Aranha VP (2018) Valuable Research in Fake Journals and Self-boasting with Fake Metrics. J Pediatr Neurosci. 13(4):517-518. https://doi.org/10.4103/JPN.JPN_66_18.
Sharma H, Verma S (2018) Predatory journals: The rise of worthless biomedical science. J Postgrad Med. 64(4):226-231. https://doi.org/10.4103/jpgm.JPGM_347_18.
Zakout YM-A (2020) Predatory Publishers/Journals in Medical Sciences: How to Avoid, Stop, and What to Do after Being Scammed by Them? J Gastrointest Cancer. 51(3):782-787. https://doi.org/10.1007/s12029-020-00418-8.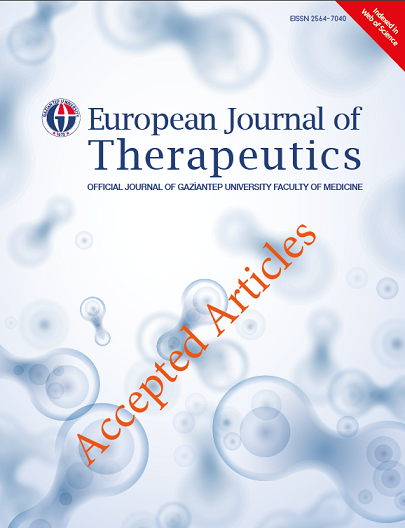 Downloads
How to Cite
(1)
Gulrandhe, P.; Naqvi, W. M. Don't Get Caught in the Wrong Journal Trap: Insights for Young Researchers. Eur J Ther 2023.
Section
Short Communication
License
Copyright (c) 2023 European Journal of Therapeutics
This work is licensed under a Creative Commons Attribution-NonCommercial 4.0 International License.
The content of this journal is licensed under a Creative Commons Attribution-NonCommercial 4.0 International License.