Post Partum Hemarage After Cesarean Section: Analyze of Causes and Results

Abstract views: 22 /

PDF downloads: 19
Keywords:
Elective cesarean, postpartum hemarage
Abstract
Bu çalışma, Gaziantep Üniversitesi Tıp Fakültesi Kadın Hastalıkları ve Doğum Anabilim Dalı'nda sezaryen sonrası doğum sonrası kanaması olan hastalarda etiyolojik faktörlerin değerlendirilmesini amaçlamaktadır. Kadın Hastalıkları ve Doğum Anabilim Dalı'nda gerçekleştirilen tüm bu tür sezaryen ve vajinal doğumların 1 Ocak 2004 - 1 Temmuz 2006 tarihleri arasında retrospektif olarak toplanan verileri analiz ettik. Sezaryen endikasyonları ve sezaryen sonrası postpartum kanamalar değerlendirildi. Postpartum kanama ile ilişkili etiyolojik faktörler de bulundu ve değerlendirildi. 1340 vajinal doğum ve 475 sezaryen doğum gerçekleşti. Sezaryen sonrası postpartum kanaması olan 15 hasta vardı. Sekizinde tekrarlayan sezaryen öyküsü vardı. Bu 15 hastanın altısı tıbbi olarak tedavi edildi. 5 hastada uterus atonik kanaması nedeniyle histerektomi yapıldı. Histerektomi öncesinde tüm hastalarda bilateral hipogastrik arterler bağlandı. Sezaryen sonrası plasenta çıkarma bölgesinde dikiş atılması gereken 4 plasenta previalı hasta vardı. Sezaryen sadece endikasyon ile yapılmalıdır. Elektif sezaryen performasyonunun sayısının artması muhtemelen postpartum kanama gibi ölümcül komplikasyonların sayısının artmasına neden olacaktır.
References
Jansen AJ, van Rhenen DJ, Steegers EA, Duvekot JJ. Postpartum hemorrhage and transfusion of blood and blood components. Obstet Gynecol Surv. 2005;60(10):663-71.
Bais JM, Eskes M, Pel M, et al. Postpartum haemorrhage in nulliparous women: incidence and risk factors in low and high risk women. A Dutch population-based cohort study on Standard and severe postpartum haemorrhage. Eur J Obstet Gynecol Reprod Biol. 2004;115: 166-172.
Ramanathan G, Arulkumaran S. Postpartum hemorrhage. J Obstet Gynaecol Can. 2006;28(11):967-73.
Yücel O, Özdemir I, Yücel N. Emergency peripartum hysterectomy: a 9- year review. Arch Gynecol Obstet. 2006;274(2):84-87.
Liu S, Liston RM, Joseph KS, Heaman M, Sauve R, Kramer MS; Maternal Health Study Group of the Canadian Perinatal Surveillance System. Maternal mortality and severe morbidity associated with low-risk planned cesarean delivery versus planned vaginal delivery at term. CMAJ. 2007;176(4):455- 60.
El-Hamamy E, B-Lynch C. A worldwide review of the uses of the uterine compression suture techniques as alternative to hysterectomy in the management of severe post-partum haemorrhage. J Obstet Gynaecol. 2005;25(2):143-9.
Langdana F, Geary M, Haw W, Keane D. Peripartum hysterectomy in the 1990s: any new lessons? J Obstet Gynaecol 2001;21(2):121-123.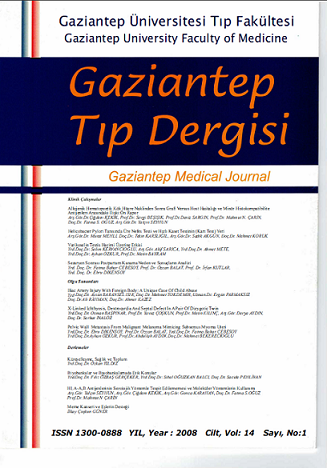 Downloads
How to Cite
Cebesoy, F. B., Balat, Özcan, Kutlar, İrfan, & Dikensoy, E. (2008). Post Partum Hemarage After Cesarean Section: Analyze of Causes and Results. European Journal of Therapeutics, 14(1), 15–17. https://doi.org/10.58600/eurjther.2008-14-1-1350-arch
Section
Clinical Research
License
Copyright (c) 2023 European Journal of Therapeutics
This work is licensed under a Creative Commons Attribution-NonCommercial 4.0 International License.
The content of this journal is licensed under a Creative Commons Attribution-NonCommercial 4.0 International License.