The Relationship Between Minor Histocompatibility Antigens And Graft-Versus-Host Disease After The Allogeneic Hematopoietic Stem Cell Transplantation

Abstract views: 20 /

PDF downloads: 18
Keywords:
Hematopoietic stem cell transplantation, minor antigen, graft versus host disease
Abstract
The major complication of hematopoetic stem cell transplantation (HSCT) is graft-versus-host disease (GVHD) or graft. HLA incompatibility increases the frequency of GVHD. On the other hand, the risk is still available despite full matched HLAs, which may be related with non-HLAs or minor antigens. One of these minor antigens, HA-1 alelic incompatibility has been shown to be associated with GVHD in HLA-identical sibling transplants. The HA-1 is an HLA-A*0201 restricted non-peptide, which derives from the cleavage of a protein encoded at chromosome 19. There are two aleles of HA-1 created by a polymorphism at position 504 that results in either Histidine (HA-1H) or Arginine (HA-1R). The aim aof the study is investigate the relationship between HA-1 and GVHD. We retrospectively examined the HA-1 locus in patients diagnosed and treated between 1998-2004. We used PCR-SSP for typing HA-1. Forty samples from 20 HLA-A2 positive HSCT (BMT, n=3 ; PBSCT, n=17 ) recipients and their donors were included in our study. The frequencies of the three possible genotypes RR, RH, HH were 35%, 45% and 20%, respectively, in recipients and 35%, 65% and 0% in donors. Four of the 20 patients (20%) were determined as having evre II or III GVHD. There is HA-1H incompatibility between donor and recipient only in two patients with GVHD. mHAgs were found to be incompatible in 8 out of 20 recipient/donor pairs.
References
Mats R, Ulla P, Dan H, Olle R. An association between human leucocyte antigen alleles and acute and chronic graft- versus-host disease after allogeneic haematopoietic stem cell transplantation. BrJ Haematol. 2002;119:751-9.
Rufer N, Starobinski M, Chapuis B, Gratwohl A, Jeannet M, Helg C, Roosnek E. Clinical consequences of sensitisation to minor histocompatibility antigens before allogeneic bone marrow transplantation. Bone Marrow Transp. 1998;22:895- 8.
Horowitz MM, Gale RP, Sondel PM, et al. Graft-versus- leukemia reactions after bone marrow transplantation. Blood. 1990;75:555-62.
Dolstra H, Fredrix H, Maas F, Coulie PG, Brasseur F, Mensink E, et al. A human minor histocompatibility antigen specific for B cell acute lymphoblastic leukemia. 1999;189(2): 301-8.
Snell GD. Methods for the study of histocompatibility genes. J Genet. 1948;49:87-103.
Graf RJ, Hildemann WH, Snell GD. Histocompatibility genes of mice. VI. Allografts in mice congenic at various non- H2 histocompatibility loci. Transplantation. 1966;4:425-37.
Goulmy E, Termijtelen A, Bradley BA, van Rood JJ. Alloimmunity to human H-Y. Lancet. 1976;ii:1206.
Tseng L, Lin M, Hansen J. Correlation between disparity for the Minor Histocompatibility Antigen HA-1 and the development of acute graft-versus-host disease after allogeneic marrow transplantation. Blood. vol 1999;94:2911-2914.
Haan JM, Meadows LM, Wang W, Pool J, Offringa R, Hunt DF, et al. The minor histocompatibility antigen HA-1: A diallelic gene with a single amino acid polymorphism. Science. 1998;279:1054.
Goulmy E. Human minor histocompatibility antigens: new concepts for marrow transplantation and adoptive immunotherapy. Immun Rev. 1997;157:125-40.
Gustincich S., Manfiolett G., Del Sal G., Schneider C. and Carninci P. A fast method for high-quality genomic DNA extraction from whole human blood. Bio Techniques. 1991;11:298-302.
Goulmy E., Schipper R., Pool J et al. Mismatches of minor histocompatibity antigens between HLA identical donors and recipients and the development of graft-versus-host disease after bone marrow transplantation. New Engl J Med. 1996;334:281-5.
Tanaka J. Target antigens for graft-versus-host disease (GVHD) and graft-versus-leukemia/tumor (GVL/T). Nippon Rinsho. 2003;61(9):1512-9.
Kircher B, Wolf M, Stevanovic S, Rammensee HG, Grubeck-Loebenstein B, Gastl G, Nachbaur D. Hematopoietic lineage-restricted minor histocompatibility antigen HA-1 in graft-versus-leukemia activity after donor lymphocyte infusion. J Immunother. 2004;27(2):156-60.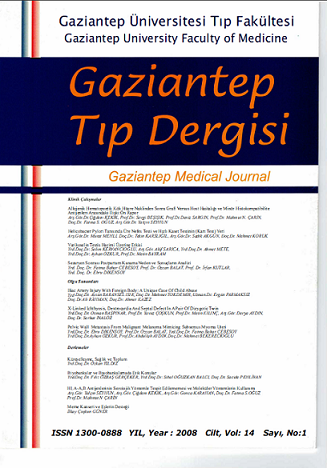 Downloads
How to Cite
Kekik, Çiğdem, Beşışık, S., Sargın, D., Çarin, M. N., Oğuz, F. S., & Seyhun, Y. (2008). The Relationship Between Minor Histocompatibility Antigens And Graft-Versus-Host Disease After The Allogeneic Hematopoietic Stem Cell Transplantation. European Journal of Therapeutics, 14(1), 1–4. https://doi.org/10.58600/eurjther.2008-14-1-1346-arch
Section
Clinical Research
License
Copyright (c) 2023 European Journal of Therapeutics
This work is licensed under a Creative Commons Attribution-NonCommercial 4.0 International License.
The content of this journal is licensed under a Creative Commons Attribution-NonCommercial 4.0 International License.