Agents Isolated from Vaginal Cultures in the Reproductive Period and Their Antibiotic Sensitivities (Vaginal Culture and Antibiotic Sensitivitie)

Abstract views: 152 /

PDF downloads: 96
Keywords:
vaginal discharge, vaginitis, antibiotic sensitivity
Abstract
Introduction: In our study, we aimed to examine the strains isolated from vaginal swab samples sent to our laboratory from various clinics with a pre-diagnosis of vulvovaginitis and antibiotic resistance rates,  retrospectively.
Methods: ethods: 90 vaginal swab samples of patientswere included into this study. Two samples were taken from each patient and one sample was used for Gram staining. The other sample was inoculated in 5% sheep blood, Eozine Methylene Blue agar and Saboraud dextrose agar. TIdentification of isolated colonies and antibiotic susceptibility studies were carried out with Vitek 2 Compact automated system. Result of the susceptibility testing are reported according to EUCAST criteria. Nugent scoring was used for bacterial vaginosis.
Results: Normal vaginal flora elements were found in 66 (73.3 %) of the specimens, and 28 organisms were found in 24 (26.7 %). The distribution of the organisms is as follows: 6 (21.4%) Escherichia coli, 5(17.9%) Streptococcus agalactiae,  5 (17.9%) Gardnerella vaginalis, 3 (10.7%) Candida spp., 3(10.7%) Klebsiella pneumoniae, 3(10.7%) Enterococcus faecalis. Two of the E.coli strains and one of the K.pneumoniae strains are ESBL positive. Of the agents, 21 were isolated from outpatients and 7 from inpatients.  All S. agalactiae strains were susceptible to penicillin and ampicillin. E.coli and K.pneumoniae strains, which are the most frequently isolated Gram (-) organisms, are most susceptible to amikacin, carbapenems and tigecycline.
Conclusion: In patients with vaginal discharge and itching complaints, determining the organisms with microbiological culture and oriented treatment instead of empirical treatment will be more beneficial for cure.
References
FNeal CM, Kus LH, Eckert LO, Peipert JF. Noncandidal vaginitis: a comprehensive approach to diagnosis and management. Am J Obstet Gynecol. 2020;222(2):114-122.
Hillier SL, Austin M, Macio I, Meyn LA, Badway D, Beigi R. Diagnosis and Treatment of Vaginal Discharge Syndromes in Community Practice Settings. Clin Infect Dis. 2021;72(9):1538-1543.
Oliveira AS, Rolo J, Gaspar C, Palmeira de Oliveira R, Martinez de Oliveira J, Palmeira de Oliveira A. Allergic vulvovaginitis: a systematic literature review. Arch Gynecol Obstet. 2022;306(3):593-622
Mills BB. Vaginitis: Beyond the Basics. Obstet Gynecol Clin North Am. 2017;44(2):159-177.
American College of Obstetricians and Gynecologists' Committee on Practice Bulletins—Gynecology. Diagnosis and Management of Vulvar Skin Disorders: ACOG Practice Bulletin, Number 224. Obstet Gynecol. 2020;136(1):e1-e14.
Nenadić D, Pavlović MD. Value of bacterial culture of vaginal swabs in diagnosis of vaginal infections. Vojnosanit Pregl. 2015;72(6):523-528.
EUCAST. European Committee on Antimicrobial Susceptibility Testing Breakpoint tables for interpretation of MICs and zone diameters European Committee on Antimicrobial Susceptibility Testing Breakpoint ts for interpretation of MICs and zone diameters. Eur Comm Antimicrob Susceptibility Testing Break tables Interpret MICs Zo diameters Version 80, 2018 http//www.eucast.org.2015;0-77.
Powell AM, Nyirjesy P. Recurrent vulvovaginitis. Best Pract Res Clin Obstet Gynaecol 2014;28(7):967–976.
Diop K, Dufour JC, Levasseur A, Fenollar F. Exhaustive repertoire of human vaginal microbiota. Human Microbiome Journal 2019;11:1-7.
Green KA, Zarek SM, Catherino WH. Gynecologic health and disease in relation to the microbiome of the female reproductive tract. Fertil Steril. 2015;104(6):1351–1357.
Lopes dos Santos Santiago G, Tency I, et al. Longitudinal qPCR study of the dynamics of L. crispatus, L. iners, A. vaginae, (Sialidase Positive) G. vaginalis, and P. bivia in the vagina. PLoS One 2012; 7(9)
Baek JC, Jo HC, Lee SM, Park JE, Cho IA, Sung JH. Prevalence of Pathogens and Other Microorganisms in Premenopausal and Postmenopausal Women with Vulvovaginal Symptoms: A Retrospective Study in a Single Institute in South Korea. Medicina (Kaunas). 2021;57(6):577.
Machado A, Almeida C, Salgueiro D, et al. Fluorescence in situ hybridization method using Peptide Nucleic Acid probes for rapid detection of Lactobacillus and Gardnerella spp. BMC Microbiol 2013;13(1).
Kadir MA, Sulyman MA, Dawood IS, Shams-Eldin S. Trichomonas vaginalis and associated microorganisms in women with vaginal discharge in Kerkuk-Iraq. Ankara Med J 2014;14(3):91–9.
Bolukaoto JY, Monyama CM, Chukwu MO, Lekala SM, Nchabeleng M, Maloba MRB, vd. Antibiotic resistance of Streptococcus agalactiae isolated from pregnant women in Garankuwa, South Africa. BMC Res Notes 2015;8:364.
Poyart C, Jardy L, Quesne G, Berche P, Trieu-Cuot P. Genetic basis of antibiotic resistance in Streptococcus agalactiae strains isolated in a French hospital. Antimicrob Agents Chemother 2003;47(2):794–7.
Al-Mayahie SM. Phenotypic and genotypic comparison of ESBL production by vaginal Escherichia coli isolates from pregnant and non-pregnant women. Ann Clin Microbiol Antimicrob. 2013; 12: 7.
Wesseling CMJ, Martin NI. Synergy by Perturbing the Gram-Negative Outer Membrane: Opening the Door for Gram-Positive Specific Antibiotics. ACS Infect Dis. 2022;8(9):1731-1757.
Allemailem KS. A Comprehensive Computer Aided Vaccine Design Approach to Propose a Multi-Epitopes Subunit Vaccine against Genus Klebsiella Using Pan-Genomics, Reverse Vaccinology, and Biophysical Techniques. Vaccines (Basel). 2021;9(10):1087.
Firoozeh F, Mahluji Z, Khorshidi A, Zibaei M. Molecular characterization of class 1, 2 and 3 integrons in clinical multi-drug resistant Klebsiella pneumoniae isolates. Antimicrob Resist Infect Control 2019;8(59):1-7
Czajkowski K, Broś-Konopielko M, Teliga-Czajkowska J. Urinary tract infection in women. Prz Menopauzalny. 2021;20(1):40-47.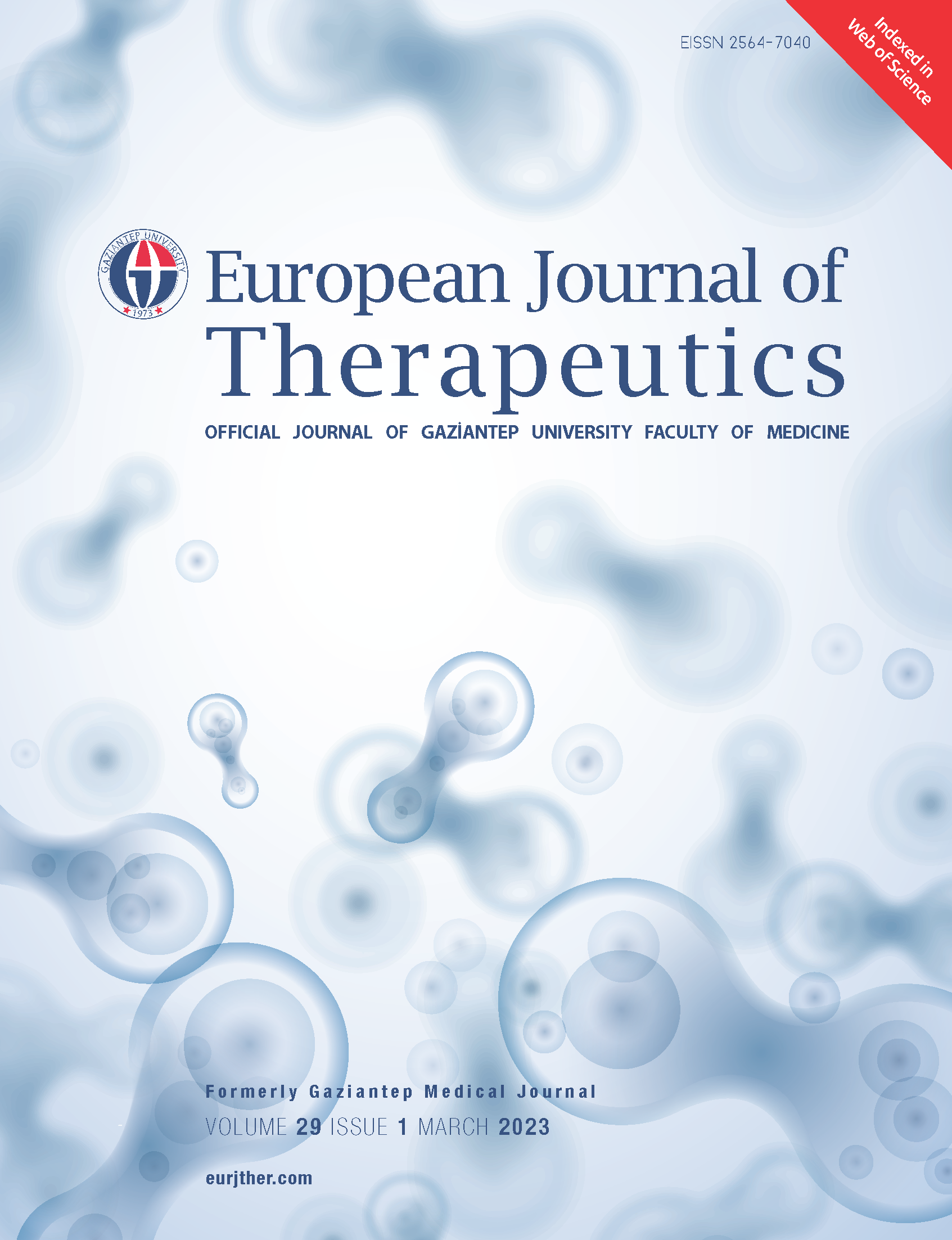 Downloads
How to Cite
Dinç, K., & Akyüz, S. (2023). Agents Isolated from Vaginal Cultures in the Reproductive Period and Their Antibiotic Sensitivities (Vaginal Culture and Antibiotic Sensitivitie). European Journal of Therapeutics, 29(1), 55–59. https://doi.org/10.58600/eurjther-131
Section
Original Articles
License
Copyright (c) 2023 European Journal of Therapeutics
This work is licensed under a Creative Commons Attribution-NonCommercial 4.0 International License.
The content of this journal is licensed under a Creative Commons Attribution-NonCommercial 4.0 International License.