Intracardiac defi brillator application in a 14-year old case with thalassemia major, in whom ventricular fi brillation and ventricular tachycardia episodes were determined

Abstract views: 21 /

PDF downloads: 11
Keywords:
Thalassemia major, ventricular tachycardia, sudden cardiac death, intracardiac defi brillator
Abstract
Major causes of morbidity and mortality in children with thalassemia major are dysrhythmias and heart failure. Heart failure based on cardiac iron accumulation is seen quite often; whereas, dysrhythmias due to cardiac arrest is rare. The most common cardiac pathology is dilated cardiomyopathy with restrictive feature, and common dysrhythmia is atrial fi brillation. Ventricular dysrhythmias in adult patients with serious ion load have also been reported, but no study on the incidence of ventricular dysrhythmias in pediatric patients could have been found. It was the objective of the present study to emphasize that ventricular fibrillation and/or ventricular tachycardia could develop in children with thalassemia major by presenting a 14-year-old male patient, who was followed for thalassemia major presenting with ventricular fi brillation, whose holter recordings identifi ed ventricular tachycardia which was uncontrolled by medical therapy, and on whom intracardiac defi brillator therapy was performed.
References
Kremastinos DT, Tsetsos GA, Tsiapras DP, Karavolias GK, Ladis VA, Kattamis CA. Heart failure in beta thalassemia: a 5-year follow-up study. Am J Med 2001;111(5):349-54.
Pennel DJ, Udelson JE, Arai AE, Bozkurt B, Cohen AR, Galanello R, et al. Cardiovascular function and treatment in b-Thalassemia major: a consensus statement from the American Heart Association. Circulation 2013;128(3):281-308.
Epstein AE, Dimarco JP, Ellenbogen KA, Estes NA, Freedman RA, Gettes LS, et al. American College of Cardiology; American Heart Association Task Force on Practice Guidelines; American Association for Thoracic Surgery; Society of Thoracic Surgeons. ACC/AHA/HRS 2008 Guidelines for device-based therapy of cardiac rhythm abnormalities. Heart Rhythm 2008;5(6):1-62.
Buja LM, Roberts WC. Iron in the heart. Etiology and clinical signifi cance. Am J Med 1971;51(2):209-21.
Kirk P, Roughton M, Porter JB, Walker JM, Tanner MA, Patel J, et al. Cardiac T2* magnetic resonance for prediction of cardiac complications in Thalassemia major. Circulation 2009;120(20):1961-8.
Bayar N, Arslan Ş, Erkal Z, Küçükseymen S. Sustained ventricular tachycardia in a patient with Thalassemia Major. Ann Noninvasive Electrocardiol 2014;19(2):193-7.
Russo V, Rago A, Pannone B, Papa AA, Di Meo F, Mayer MC, et al. Dispersion of repolarization and beta-thalassemia major: the prognostic role of QT and JT dispersion for identifying the high-risk patients for sudden death. Eur J Haematol 2011;86(4):324-1.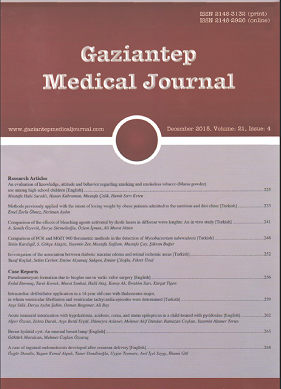 Downloads
How to Cite
Sülü, A., Aydın Şahin, D., Başpınar, O., & Bay, A. (2015). Intracardiac defi brillator application in a 14-year old case with thalassemia major, in whom ventricular fi brillation and ventricular tachycardia episodes were determined. European Journal of Therapeutics, 21(4), 259–261. https://doi.org/10.5578/GMJ.10812
License
Copyright (c) 2023 European Journal of Therapeutics
This work is licensed under a Creative Commons Attribution-NonCommercial 4.0 International License.
The content of this journal is licensed under a Creative Commons Attribution-NonCommercial 4.0 International License.